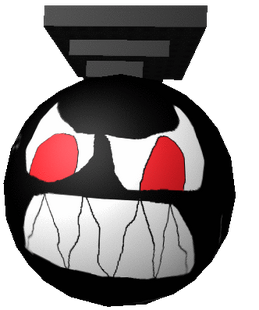 Evil Trashbag is a member of
Evil Garbage Can
's Team. He first appeared in Food Orb 15 - Evil Garbage Can's Revenge. Evil Trashbag is a character created by a user named uglygarlic.
Evil Trashbag's appearance is a black trashbag. Evil Trashbag is shown with eyes with red pupils, including a big mouth with sharp teeth. Evil Trashbag, however, does not have limbs, but can still jump, or walk.
In the end of Food Orb 15 - Evil Garbage Can's Revenge, Evil Trashbag argued with Evil Recycle Bin on who actually let the team lose in the battle.
Trivia
It is unknown how Evil Trashbag can walk around and jump while lacking any limbs.

It is probably the force of his body that makes him move around.

Evil Trashbag perhaps looks like the most menancing in Evil Garbage Can's team.
Evil Trashbag can probably roll around due to his spherical shape, but it has not been proven quite yet.
Evil Trashbag was previously seen in Food Orb 12 as only a scary shortcut monster, but soon became a villain of Evil Garbage Can's team.
Gallery
Ad blocker interference detected!
Wikia is a free-to-use site that makes money from advertising. We have a modified experience for viewers using ad blockers

Wikia is not accessible if you've made further modifications. Remove the custom ad blocker rule(s) and the page will load as expected.