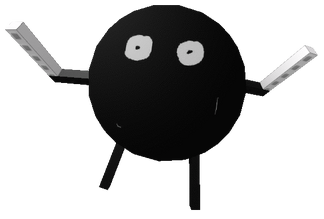 Evil Oreo is a Food Orb Villain, which is originally created by crazybloxion/Tinfoilbloxion. Evil Oreo first appeared in Food Orb 5, along with
Evil Smore
.
Evil Oreo's appearance is a black cookie with creaming in the middle. He doesn't have a mouth shown, but can still be able to talk. He normally has two eyes, and has black stick limbs like all the other villains do. The half ends of his arms are colored white.
Evil Oreo likes pouring green goo/ooze, as seen in Food Orb 5 - Europe.
Trivia
Evil Oreo is one of the only Food villains to be colored black, the other being Evil Jafa Cake.
Evil Oreo strangely does not have or show a mouth. It is also unknown why the half ends of his arms are colored white.
Some people may think or mistaken that Evil Oreo is a female.
It has been proven by Tinfoilbloxion that Evil Oreo is truly a male, and that the white parts stuck between his front and back and on his hands are creaming.
Gallery
Ad blocker interference detected!
Wikia is a free-to-use site that makes money from advertising. We have a modified experience for viewers using ad blockers

Wikia is not accessible if you've made further modifications. Remove the custom ad blocker rule(s) and the page will load as expected.